Two of the most progressive minds in the bass music world, Capshun and Floret Loret, have both been waging their own separate campaigns of audio domination through their eccentric and wholly unique styles. Between Capshun's top-tier trap production which has landed him releases on the likes of Sable Valley, Quality Goods Records, and a sizzling guest mix for us here on FUXWITHIT 3 years ago, and Floret Loret's unmatched ability to curate some of the most all-encompassing soundscapes on the current market that has garnered him a collaboration with the iconic duo Zeds Dead, an EP release on Bassrush, and a guest mix for us, it's no wonder these two eventually decided to put their heads together to create something truly special. What better occasion than on a compilation album curated by the one and only Clozee herself? Continuing their trend of promoting only the most potent of vibe-riddled audible adulterants, Gravitas Recordings has burst into 2021 with the unveiling of their 15-track Emergence compilation album, hand-picked by the French queen of world bass, and we have the great pleasure of premiering Capshun and Floret Loret's collaboration 'Wisteria' from it for your listening pleasure right here on FUXWITHIT.
"Wisteria is a blend of both our styles. The name comes from our influences in Asian Culture (capshun) and floral/plants (Floret Loret). There is a sense of clarity throughout the song as it picks you up from the start and gradually evolves into a beautiful soundscape. We hope you enjoy the tune" – Floret Loret
Featuring a lush, dense introduction that warmly greets you as you embark on this 207-second excursion through time and space, 'Wisteria' sets an immediate tone of sensational prowess and palpable emotion. Sensual faded vocal samples and a delightful flute sample that tickles the mind breach the surface of this emotion-rich piece before slathering you in a hearty helping of purring low-end sub-bass. A one-way ticket straight to contentedness and full-bodied euphoria, you won't have to merely believe you're the main character in this world anymore, you will transcend your mortal being and attain a state of temporary enlightenment that is reserved for only the most sacred of ceremonial rituals. A true treat on the ears and a serendipitous sensory stimulator, this is one that will surely leave you consistently coming back for more.
It's really no surprise to any longstanding fans of these two magisterial artists that their first collab would be an absolute hit. It would probably come as no surprise either then, that the rest of Emergence is a captivating headfirst dive into an entire jungle ecosystem of genres, styles, and energies. Clozee has once again shown she has unquestionable taste and an unparalleled connection to the pulse of the community at-large. And, all the artists tapped for this album have put on full-display just why they were chosen in the first place. Keep a keen eye out for the full release of Emergence on the 26th, but for now check out 'Wisteria' for yourself below!
,
And if you don't quite get enough of your bass music fix from the full album drop on the 26th, make sure to tune into the Emergence Virtual Showcase, hosted on Twitch.tv/gravitasmusic, featuring performances from Zebbler Encanti Experience, Notlo, Somatoast, Morillo, Defunk, Clozee, and more! You can RSVP to the event here.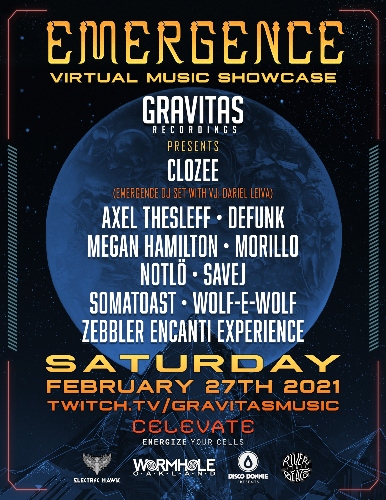 Follow Capshun on:
Facebook
Twitter
Instagram
Spotify
Follow Floret Loret on:
Facebook
Twitter
Instagram
Spotify
Follow Gravitas Recordings on:
Facebook
Twitter
Instagram
Spotify