Doc Brown's lifetime passion for music is both unmistakable in his productions and undeniable in his performances. Having experimented with MIDI programming and sequencing as a teenager, it wasn't until moving to Miami – and getting his hands on his first set 1200s – that he was able to link creating electronic music in the studio to his natural ability to rock a party.
Showcasing a melodic style firmly rooted in the underground, Doc's unique sound has crossover appeal and is demanded not only by well-informed dancefloors but international tastemakers. Doc's bassline-driven productions have landed on a range notable labels: recent releases on Vanilla Ace's Wyldcard, Cube Trax, Whartone, HoTL, Insomniac and Lapsus Music have gathered industry acclaim, with support coming from a spectrum artists as varied as Damian Lazarus, Tiesto, David Tort, Tocadisco, Oscar G, Supernova, Marco Lys and Hector Couto.
Doc Brown's Paradigm is his latest release on Exit 32: two tough, trippy tech house originals backed up with dark, bass-heavy recut courtesy Nu Sky.
Listen to Doc Brown's Pardigm EP Exit 32 Recordings: 
Alongside Doc Brown's new release we got the exclusive interview. Enjoy getting into the mind the Groove Cruise and BPM Fesitval vet and exploring some his select tracks from his more recent sets.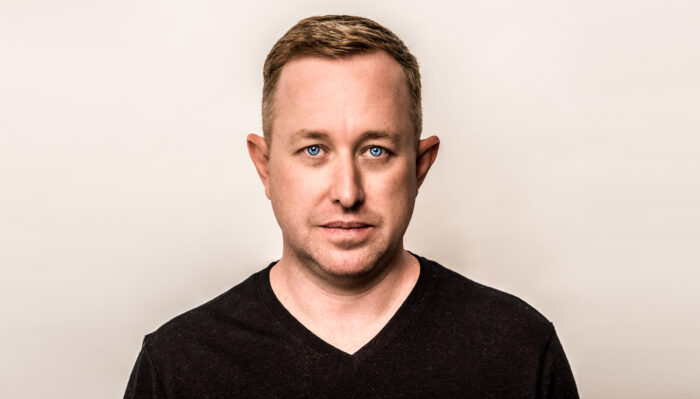 What is the best scene in movie history?
Wow—there are so many great movies and scenes I could choose but if I was forced to pick one I'd have to go with the scene in Pulp Fiction with John Travolta and the adrenaline shot.  It's incredibly tense, but also has some nice comic relief. Tarantino was always good like that and that was the first movie his I ever saw.
Where did you get your start? Can you tell us about your first gig? How old were you, where were you and what were the next steps that brought you to where you are today?
Technically, my first time performing in front a crowd was as a high-school sophomore as part a 5-piece rock band at a local "Battle the Bands" contest.  It wasn't until college I got into DJ'ing, but it was always just a hobby until around 10 years ago—I won competitions to play both at EDC Orlando and Groove Cruise, and everything has just grown from there.
I just spent some time listening to you most recent EP, Paradigm. I am enjoying the driving beats and how each track builds. What unique samples did you play with to create the EP?  
Paradigm is very much about the drums—so I wanted to make the toms & snare sound pretty big.  Having the right samples definitely makes all the difference in how the drum mix comes together.  The main synth lead is a Moog Voyager sample and was done and processed all in audio including the pitch shifting.  Show 'Em was mostly MIDI-based; it was one the first tracks I wrote with u-he Diva, so all the synth patches (including the bass, both leads and the pads) were done with that.
Since every DJ strives to have a niche. What is yours?
I've always wanted to make music that has appeal to the entry-level listener, but is also smart enough to satisfy someone who's a bit more seasoned.  I also really like progressive music, techno AND tech-house so, to me, something that sits neatly in the middle those three is perfect. It's kind specific in terms the exact sound/style tracks I'm looking for, but I've found it has a broad appeal…since fans all three those genres can relate.
What is going through your head while performing?
Hmmmm…that's a tough one, most the time the performances are a bit a blur!  I'm usually very comfortable with my collection music and how it's sorted so I'm really just going with the flow.  I do have some key things I consciously remind myself to check though–watching the crowd reactions as sections the song change is important & keeping an eye on the time helps me structure my set as best I can (especially for shorter/festival sets).  I also tend not to smile when I'm concentrating, so I'm trying to be better about reminding myself to let people know I'm having fun!
How do you discover new music?
I have a system I use that includes Beatport, Soundcloud & other links I gather from various sources including Twitter & Facebook.  I follow DJs and artists' specific releases and also listen through DJ mixes for new tracks. Promos play a fair role as well.
What tracks have really been setting f the dance floor in your sets lately?
DJ PP & Jack Mood's Revolver has been a real go-to.  Harry Romero, Beth Lydi, Alex Twitchy & Wheats have been on fire with their recent productions as well
Can you tell us a little about the label you are about to launch? When will it be the first release?
Yes!  I'm super excited to launch my label, Unlearn:Records…the plan was for April but with everything going on it looks like it will be June instead.  I want to create an environment that has tools in place to foster artist development—it's important that if you sign away your music to a label that they help you cut through the noise.  It will also be 100% fiscally transparent; labels owe this to artists they sign at a minimum.
What are you excited about? 
My Unlearn:Radio show runs every month on Data Transmission and can be found everywhere online, most recently including Spotify which I'm pretty excited about.
What is your favorite meal? 
Meatloaf & mac'n'cheese!  No ketchup on the meatloaf tho!! 
Doc Brown Online: